NX CAM / CMM
Transform parts production from the ground up to automate end-to-end processes, improve productivity, and increase profitability. Build on one software for your entire operation, including CNC machining, 3D printing, quality inspection, as well as robotics, and always stay one step ahead.
NX CAM for your manufacturing – speed up the production of world-class parts.
With NX for Manufacturing software, you can automate and network your entire operation. Program CNC machine tools, control robot cells, drive 3D printers, and monitor quality with a robust toolset. With NX for Manufacturing you can accomplish the following:
Fast programming and efficient processing of orders with Computer Aided Manufacturing (CAM).
Design, simulation, and printing of next generation parts on a large scale with additive manufacturing.
Expand production automation and increase flexibility through the use of robots.
Automate the development of associative tool assemblies using tool and fixture design.
High standards with a self-contained solution through parts quality inspection.
Networked data-supported production through manufacturing data and process management.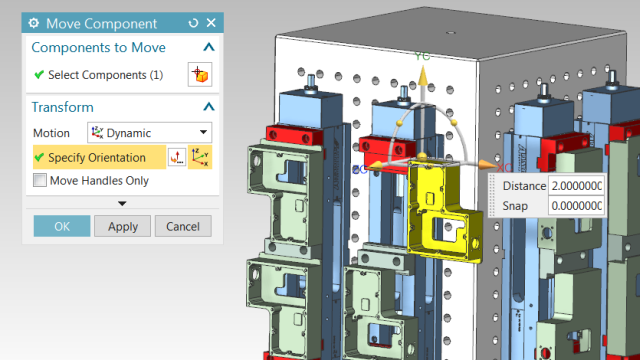 NX CMM inspection programming
CMM Inspection Programming in NX is a state-of-the-art solution for offline programming of the 3D coordinate measuring machine. It reduces programming time, frees up costly CMM machine resources, and enables you to react quickly to design changes.
Digitalize your quality control process to meet the high requirements for product quality and dimensional accuracy. By integrating CMM machine programming, shop floor implementation, and measurement data analysis, you can build an efficient data-driven quality control process. This automated, holistic solution provides continuous process control to help you deliver high-quality products and stay competitive.
Automatically generate inspection programs with parts geometry and product and manufacturing information (PMI) linked to intelligent CAD models.
By combining industry expertise, best practices, and process automation, our solution streamlines the entire inspection program development process from feature definition and path creation to program creation and validation.
Integration with Teamcenter makes it easy for you to automate programming by applying your own standard test path methods, tools, and program templates and ensures that correct revisions of parts are programmed and produced on the shop floor.